TimeToTalks -
Finally after a long journey, Duel Masters has reached the phase where finish, after the spectacular action weeks ago, The Master to give back the last duel between Joe and Sandy and Limbad.on Friday night (8 / 5), the inagurasi duel, both are playing with two judges, Deddy Corbuzier and Romy Rafael
At the beginning of the game Deddy collide the strategy with Limbad to save VJ Marissa that be. Deddy and Limbad show its ability of each to the risk of explosion occurred when the padlock that locks the cage was expiring.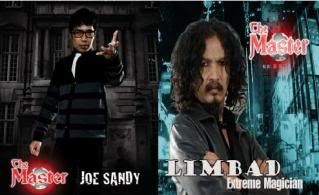 While collaborating Romy with JoeSandy. Romy's request to give sugesti spectators in secret. Meanwhile, Joe Sandy requested confidential predicts that the audience think

Is another interesting game when Joe and Deddy solve challenging problems in mathematics and chess or international Knight Tour where chess is often in a race at the international level. But they play with eyes closed.

Meanwhile, Limbad disproved Romy the assumption that someone can do something for disugesti. Ljmbad challenging for the audience under a sugesti Romy do what is appropriate.

As usual on this night inagurasi commentator are four judges. Building Integrity Convention Center, MGK Kemayoran met people who want to witness directly. In which the stars appear Indonesian Idol. The same scene outside the building. Some members of the public who saw a closer. As a result, spectators had a barrier fence collapsed. But there is no victim in the event of a sudden.

After a week ago while the number of sms to win, but Joe continues to chase each pursuing traffic collision occurred on the evening inagurasi. And finally at the end of the acquisition on the winning sms Joe Sandy with 53.08%. While Limbad 46.92%. Top of this victory, Joe was successful steal money, while 50 million rupiah Limbad Runner Up in the position to bring home 30 million rupiah prize.